Chocolate Berry Cupcakes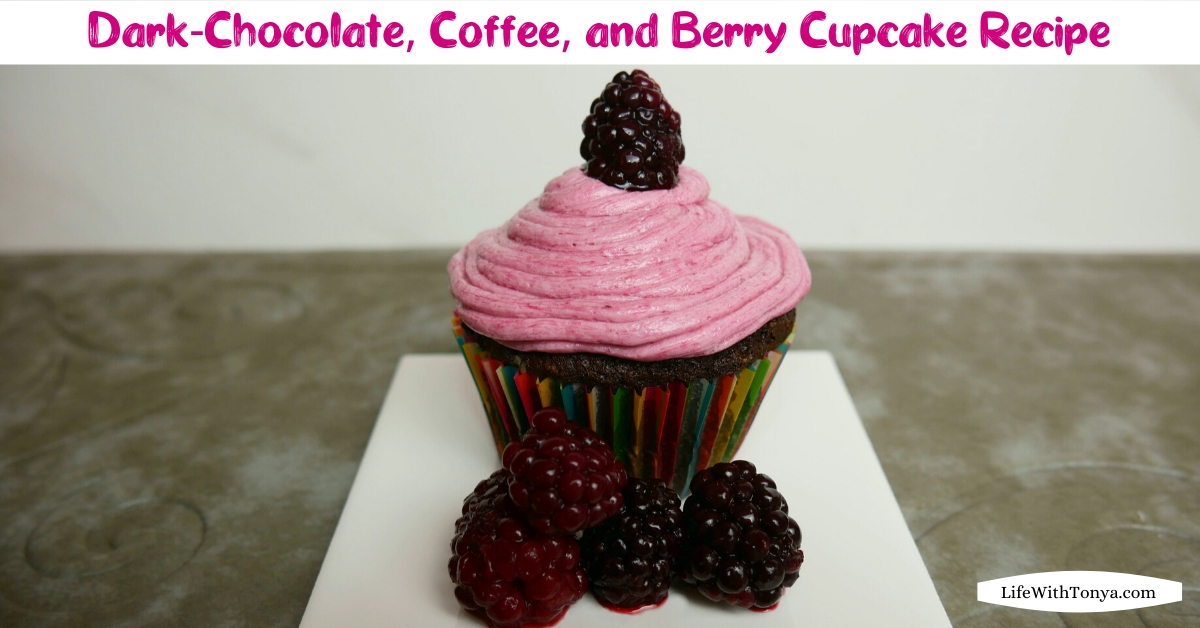 I did it! I made my very first chocolate cupcakes from scratch. I have to admit, I'm pretty proud of myself. Not only did I tackle homemade chocolate cupcakes, I also made an easy from-scratch berry frosting. If that wasn't good enough, I'm baking during the COVID-19 epidemic, and the original ingredients I intended to use were not available.
Will all of that, these blackberry dark-chocolate cupcakes were truly decadent. Once again, I dove into my Ghirardelli unsweetened cocoa powder for this truly rich chocolate cupcake. I love the way this cocoa powder offers a deep, rich flavor. Check out my avocado, chocolate, and coffee breakfast smoothie.
To add to the richness of these chocolate berry cupcakes, I added brewed coffee to the batter. Cooled, of course. Coffee enhances the chocolate flavor, and desserts can never have too much chocolate.
Whipped Cream Frosting Recipe
The real challenge for my homemade cupcakes was the homemade frosting. Until this moment, I didn't realize I could make buttercream frosting with regular sugar vs. powdered sugar (which I didn't have). I also didn't know I could pulse regular sugar and turn it into powdered sugar!
In reality, I'm glad I didn't know those facts. I ended up with a very tasty and unique blackberry whipped frosting that I'm proud of. I even dove into my Chopped viewing experiences and strained the blackberry seeds! Hahahaha
The cupcake recipe yields 12 cupcakes, and the homemade blackberry icing lightly covered all the cupcakes. Perfect for me, but if you are like my mom, you would want more frosting on each cupcake. It that case, multiply the whipped berry icing by 1.5. This will allow you to ice the cupcakes with more goodness.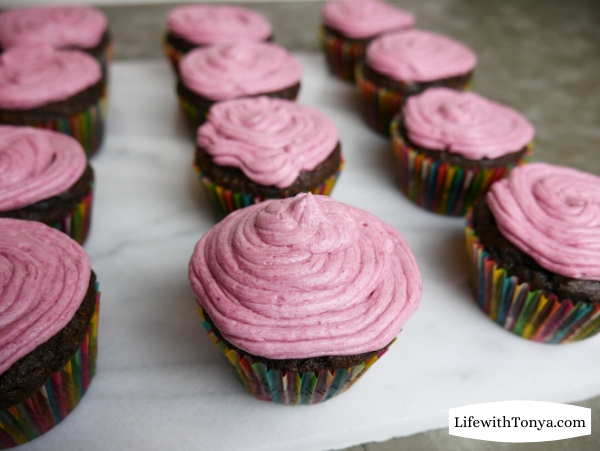 Dark Chocolate, Berry and Coffee Cupcake Recipe
Homemade Chocolate, Coffee, and Blackberry Cupcakes
To add to the richness of these chocolate berry cupcakes, I added brewed coffee to the batter.
Ingredients
2

Cups

All Purpose Flour

Sifted

1.25

Cups

Sugar

1

Cup

Blackberries

.5

Cup

Brewed Coffee

Cooled

.5

Cup

Coconut Oil

Melted

.5

Cup

Cocoa Powder

Unsweetened

1.5

tsp

Pure Vanilla Extract

1.5

tsp

Baking Soda

.75

tsp

Salt
Instructions
Line cupcake pan with oiled liners. I used coconut oil.

Whisk all the dry ingredients in a bowl.

Add all the wet ingredients to the dry ingredients. Mix well.

Scoop batter with a standard ice-cream scoop and place into oiled cupcake cups.

Bake for approximately 15-20 minutes. The cupcakes should be springy to the touch.

Remove from pan and set on a cooling rack to completely cool before icing.
Homemade Blackberry Whipped Frosting
Blackberry Whipped Frosting Recipe
Perfectly delicious homemade frosting that's not too sweet.
Ingredients
1

Cup

Blackberries

.75

Cup

Sugar

.5

Cup

Heavy Whipping Cream

.5

Cup

Butter

I used salted

2

TBSP

All Purpose Flour

1.5

tsp

Pure Vanilla Extract

.25

tsp

Salt
Instructions
In a mixing bowl, mix the sugar, butter, and vanilla.

In a saucepan over medium-low heat, whisk heavy whipping cream, flour, salt and berries.

Continually whisk until the sauce thickens and the berries break down. Approximately 5 minutes.

Pour through a mesh strainer, over the butter mixture and strain, leaving the seeds in the strainer. Discard seeds.

Mix the butter mixture with the berry mixture until fully incorporated.

Place the homemade berry frosting into a piping bag.

Once your chocolate cupcakes are cool, pipe the frosting, starting with the outer edge and working your way around the cupcake until you reach the center.

Enjoy! Try not to eat them all in one day. 🙂

Are you a chocolate lover like me? Tell me in the comments.
Are you looking for even more ways to stay up to date with Life with Tonya? Sign up for the newsletter for more tips and promotions. Don't forget to be social and Like, Follow and Subscribe. Comments below are always welcome.
Facebook   Twitter   Pinterest   Instagram  YouTube